Being active in communities
can help your career to thrive
When I meet new clients, it's sometimes easy to spot the ones who're enjoying resilient careers. Whether they're solopreneurs creating their own thing, or professionals making their way through large organizations, people with thriving work lives tend to share some of the same characteristics, like a positive attitude and an ability to listen.
As I chat further with clients, one thing I want to know is whether they consciously manage their networks. While most people know that networking means building strong personal and professional relationships, the most well connected people go even further. They not only create and care for individual relationships, person by person, but they also understand the power of their broader communities.
A "community" is a group that has members, rather than a collection of unconnected people. While membership may be informal or unacknowledged, the members of the community are linked by common values, interests or history. And often they have some feeling of belonging, as well as a sense that they matter – that they can make a difference to the group.
Among your communities are your neighbors, people with a background or interest similar to yours, professionals who share your training and expertise, and members of the clubs and associations you've formally joined. Your communities are packed with people you haven't even met. But when you approach someone as a part of your group, it's unlikely that he'll treat you like a stranger. Your communities are a source of business intelligence, clients, customers, mentors, introductions and friends.
There's a growing body of research that links good health with your degree of social connection. That reflects not just relationships within your inner circle, but also your interaction with far-flung communities. Reasons for the health impact might be that supportive communities can help us to manage stress, gain perspective and maintain healthy habits.
Beyond that, your emotions and behaviors can be influenced by the emotions and behaviors of those in your extended communities.   Research on human networks suggests that your attitude and habits may be shaped not only by your close contacts, but also by your contacts' contacts and their contacts, as well.   If the people in your communities are energetic, accommodating and creative, their positive vibes can be contagious, assisting you to stay upbeat as you push your boundaries.
Successful entrepreneurs are often particularly attuned to their business, customer and social communities, looking to them for inspiration, technical knowledge, referrals, and empathy. Photographer Molly Peterson, is a fine example of a modern entrepreneur who is investing in her communities as she continues to invent her multifaceted career.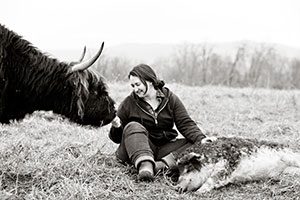 Molly's documentary-style photos are beautiful and authentic, and have been widely published. She's known particularly for her food and farm shots, and she took the pictures for "Growing Tomorrow," a new book with portraits of 18 sustainable farmers. Photography is only one of Molly's professions. She and her husband run Heritage Hollow Farms, where they raise grass-fed livestock and also operate a farm store in Sperryville, a village in Rappahannock County, Virginia.
Although it seems like two active careers would take up all Molly's time, she's one of those natural givers and connectors, active both in community nonprofit groups and in online networks. Everything seems to work together. It was through customer and online communities that Molly came up with one of the Farms' distribution channels. She noticed that many Washington, DC, residents care about the benefits of sustainable meat but can't always make the two-hour drive to Sperryville or be available for a scheduled delivery. So she arranged for meat orders to be delivered to freezers installed in Washington area Crossfit Gyms.
When I asked Molly why she's so active around the County, despite her heavy work schedule, she said, "Iwas taught from a young age from both of my parents to be curious, connected, and 'well rounded.' They were both entrepreneurs… I've always been curious and interested in a world outside of my own: why do people do what they do, is there a deeper reason for it, what makes them 'tick'. I also feel it never hurts to ask; nothing frustrates me more than when I'm told that something can't be done simply because that isn't the way it's usually done."
Molly also said, "Outside of my careers I have a genuine care and concern for my community and the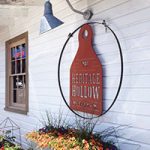 Earth and how to make it better, more joy-filled, healthier – whether that's through my photography as art, through the way we raise our livestock that ultimately feeds families, or through my time."
Staying in touch with a range of supportive communities can be key to building your resilient career. These strategies can help you to build stronger community involvement:     
Identify your communities. Start by listing groups of people with whom you're already associated. This might include your college or other alumni groups, professional associations, neighborhood committees, and even online groups. Then think about your interests or favorite activities, and search for additional organizations of like-minded people. If you're an Italian-American who likes to raise herbs and cook, look around for a garden club, a gourmet group, or an Italian-American association.
Become active. Consider organizations where you are now a member, as well as others you might join, and target several where you'll raise your profile and build relationships. Next, watch for opportunities where you can make a contribution. This might mean volunteering for a service project, joining a committee, or simply attending functions.
Care about an issue. Many communities are built around causes or local needs. If your family has been touched by cancer, you may want to join a committee that raises money for research. The best way to get to know people can be working with them to address a problem you all care about.
Be a mentor. To connect with a younger crowd or make your network more diverse, offer to serve as a mentor. Contact a professional association, or get in touch directly with someone who is starting something new and volunteer to share your skill set or serve as an advisor.
Give money. If you're overwhelmingly busy right now, you can quietly begin to build name recognition by making contributions to nonprofit groups. If your name shows up repeatedly on donor lists, group leaders may eventually beg you to become more actively involved.
Maintaining your connections with multiple communities is not just about your career. By investing in your communities you'll be forging a support system that can help you through the tougher times and make the good days even more enjoyable.