It can take a long time to learn to become a stronger leader or team member. One of the attractions of dog training is how quickly a new insight about motivating our pets can help us to teach even old dogs new tricks. When we find new ways to communicate, including through being conscious of our bodies, our dogs give us immediate feedback.

As we learn to teach our dogs, we can become more aware of our own states of mind and how we communicate them. As we train Rover we can pick up valuable lessons about motivating others and modifying our own behavior. Here are a few suggestions from the 2009 Volhard camp:

Try different strokes for different folks. The Volhards have developed a Canine Personality Profile that helps trainers diagnose the forces that motivate the way a particular dog behaves. They say that each dog's behavior is influenced by the degree to which that dog experiences four drives: pack, prey, fight and flight. My labs, for example, have the strong pack drive that is typical of their breed and so they are comfortable with groups of people and dogs. But my Chessie is not so extroverted, and I know that she is easier to train when she's away from the crowd. As leaders, we know that different personalities may react differently to the same opportunity. For example, an extrovert may be grateful for an opportunity to give a speech while an introvert will feel like she is being punished. One key to developing as a leader – of dogs and of people – is to closely observe the kind of feedback that each individual craves.


Stroke yourself back to center. Sometimes when training, a dog will be distracted by another dog or perhaps by a passing bird. When this happens, the dog may shift from pack drive, where she is focused on her trainer, and move into prey drive, where all she wants to do is chase something. The dog's trainer can regain her attention by stroking her face, known as "stroking her into pack drive." Sometimes trainers also become distracted, and when that happens their dogs may immediately become restless. As trainers and as leaders, there are times when we must bring ourselves back to center in order to be effective. We may not do our best if we aren't calmly and fully engaged in the moment. Use breathing and other techniques to quickly become centered. You'll be in better shape to lead.


Foster community. Dogs are pack animals and most dogs enjoy the company of their kind. The same goes for people. Part of the fun of dog camp is being with other people who share an interest in most things canine. You don't have to like every individual to enjoy being part of a community with a focus and values like yours. If you're trying to develop a new skill or find more energy for an old one, look for a community that shares your interest.


Continue to say "thanks". Jack Volhard's students are fond of his classic lecture on the declining reliability of "successive unreinforced repetitions." Jack explains that just because you have taught a dog to sit doesn't mean that you can count on him sitting again and again, indefinitely. For each dog, Jack says, there is a finite number of times you can expect a specific learned behavior without providing additional reinforcement. For example, a lab might "fetch" a toy many times without a reward, but you may have to give frequent reinforcement to keep a lab from jumping up when greeting guests. As leaders we sometimes forget to thank our team members for achievements that we take for granted. People, like dogs, need to know that their work is appreciated. And the amount of necessary reinforcement may vary with the individual and the task.


To enjoy freedom, create structure. Dogs live in the moment and their joy is contagious. But dogs also are creatures of habit and thrive in a lifestyle that encompasses reliable routines. At camp, you can help Rover to relax by bringing along his crate and favorite toys, and observing his regular feeding rituals. Human campers may also make themselves feel more at home by quickly developing rituals, like where they sit in the classroom. As a coach, I've become increasingly aware that one way to support clients who seek new adventures is to help them examine and refine the structures and habits that support their lives. If you are seeking new energy or direction, look at the rituals and routines that shape your daily life, and consider whether to make some changes.

Bev and cabin mates at Volhard 2009 Camp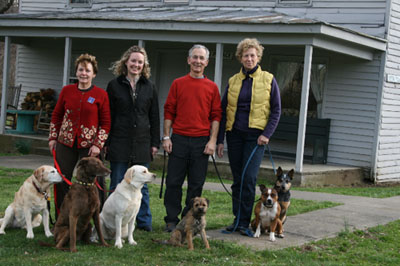 Volhard 2009 Camp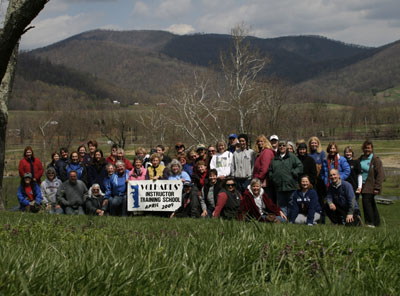 Bev's Tips for a Better Work Life is published on the first and third Tuesday of each month by Beverly E. Jones of ClearWays Consulting, LLC. Bev is a lawyer and former executive who now coaches accomplished executives and other professionals to bring new direction, energy and enjoyment to their work lives.
Copyright ©2009, ClearWays Consulting, LLC & Beverly E. Jones
All rights in all media reserved. However, the content of Bev's Tips for a Better Work Life may be forwarded in full without special permission on the condition that (1) it is for non-profit use and (2) full attribution and copyright notice are given. For other uses please contact Bev Jones.