Number 160
Some professional development experts are intrigued by recent neuroscience research on the importance of our creative right brains in accomplishing business and management projects. Training for professions like law and accounting has been dominated by analytical "left-brain" tasks, but that is starting to shift a bit. As Daniel Pink wrote in "A Whole New Mind," organizations have a growing understanding that art can stimulate innovation, and today "even General Motors is in the art business."
According to art historian Merry Foresta, this isn't surprising. Until the 20th Century, she says, studying art was one of the ways that leaders were educated and encouraged to develop critical thinking. And now we are rediscovering the view that Art inspires progress and offers paths to achieving more in a satisfying way.
"Creative Culture," says Merry, is a term used to indicate a workplace or other environment "where creative ideas are encouraged, supported, protected and nurtured for further development, until their true value can be understood and appreciated. Creativity brings imagination, curiosity, experimentation and idea-sharing into all manner of daily activities. And Creative Culture can bring imagination, diversity, curiosity, experimenting and idea-sharing into our work."
One path to fostering an organization's Creative Culture is to introduce access to art. "Even the language of art resembles the language of innovative leadership," Merry says. "Art is often about surprise, finding a new perspective, seeing things we had never before noticed, developing a vision and communicating that vision with others. So is leadership."
"By engaging in art, or simply looking at art," Merry says, "we see new things, make new connections and learn that it is OK to ask questions and push boundaries. Some businesses are leading the way, using art to encourage employees to break out of their limited thinking and invent new ideas."
If you want to bring new creativity to your office, or simply to your own work, start by looking at some art. Merry offers these strategies for stimulating innovation through art:
Do some team-building. Take your team to a local art museum, and let people get to know each other better by talking about what they like and don't like. Merry says "there is no such thing as 'good' or 'bad,' just 'intriguing' and 'interesting'!" Discussing exhibits can be a great way to bridge cultural, age and other gaps.
Try another museum. Whether in the butterfly gallery or at a display of mummies at the SI Natural History Museum, or viewing the collection of First Ladies Gowns in the American History Museum, you can find art and beauty in almost any kind of exhibition. So if your group is turned off by the idea of an "art" museum, try another kind of exhibit.
Redefine your book club. Do you belong to a book club or some other kind of social group? Vary your program by suggesting that one meeting be scheduled at a local museum.
Take a course. Museums are finding new ways to engage and educate their patrons, and many schools and universities offer continuing education programs touching upon the arts. Stimulate your right brain by taking a course or signing up for a workshop.
Take some home. Museum stores offer postcards and posters that make it possible to take home exciting art a reasonable price. And of course the Web makes it possible for us all to look at art, no matter where we live or work.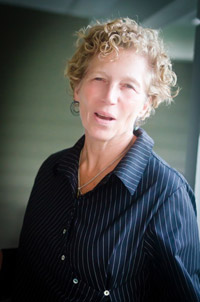 Municipal Judge-elect Gayle Williams-Byers (right) having
breakfast at Buckeye Farm with her sister and campaign
coordinator, Shawn Williams Jones.
Want to hear more from Bev and Merry? Contact Bev about workshops or seminars for your group. Meanwhile, visit Bev's website at www.ClearWaysConsulting.com. Check out brief book reviews, ezine archives and Bev's Blog. If you have questions or suggestions, email Bev directly.
---
Sign up for this ezine! We welcome new subscribers.